3 top ways to monetize your traffic with Chaturbate
Are you looking to maximize your Cam traffic profits? Great! The Cam vertical has always been CrakRevenue's specialty. We're here to share our insights to help you maximize your revenue with Chaturbate, one of the world's biggest cam sites.
The brand's name is a nod to masturbating while chatting online, an increasingly popular practice among web users. Chaturbate is ranked #62 among the world's most visited sites and is the 6th most popular adult site worldwide. It has also recently received several awards, like the 2021 GFY Award for the Best Live Cams Affiliate Program and XBIZ Honors' Cam Company of the Year. Quite impressive, isn't it?
In this article, we'll tell you how to strike gold by promoting one of the world's most notorious cam sites and seize a yet overlooked opportunity: Broadcaster Recruitment.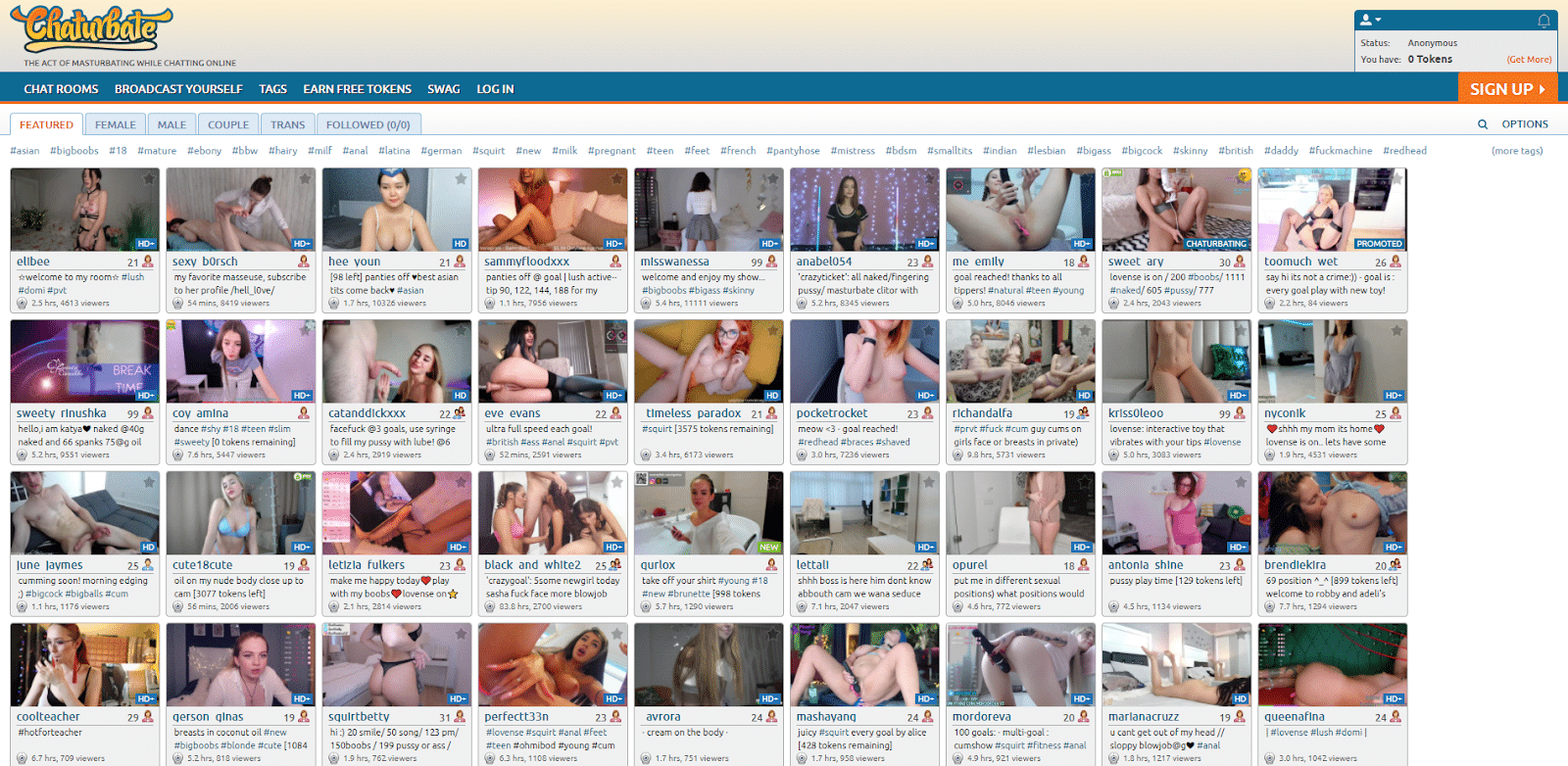 1- Gear yourself up with a performing cam tool
Give added value to your advertising with our customizable Live Cam Widgets, which can be set as Display and IM Ads with several options to perfectly fit your page's design.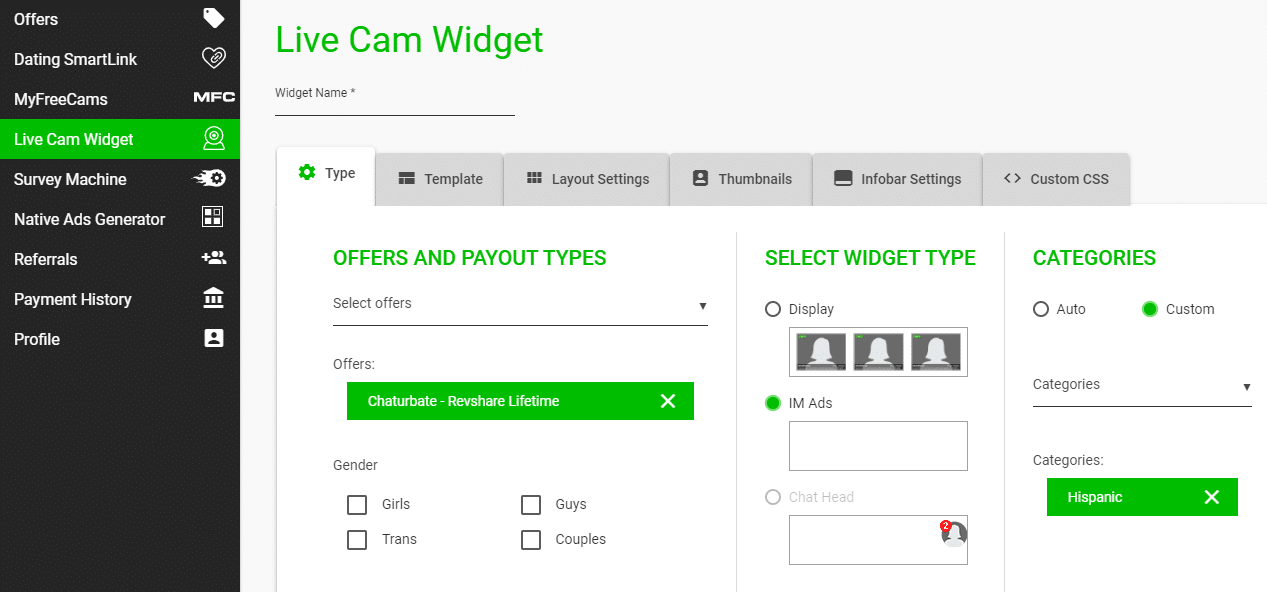 Setting your perfect thumbnails is easy, and they can be tailored to fit your site's appearance in less than 5 minutes! Here's an example of how cool your widget will look after a few clicks:

And of course, don't overlook the potential for extra earnings with pop-unders and back offers, two really powerful retention tools!
Get in touch with us through our Live Chat if you need assistance.
2- Convert with the perfect landing and tags
You can already check out the available landing pages for the most popular categories: couple, female, male, and trans. If you prefer not to leave anything to chance, you can go with the current top performers in your chosen category.
If you plan to attract a fanbase, you can also target a specific model with the Direct to Room/Profile landings.
Make good use of the thousand tags available if you aim to target a particular niche, such as:
Fetishes (#femdom, #joi, #ahegao)
Body types (#natural, #petite, #curvy)
Age category (#milf, #mature, #young)
And much more!
There's one for every niche covered on your websites!
If you have another strategy in mind, ask your Affiliate Manager, and we'll create specific landing pages for you.
Find all available landing pages in your Affiliate Dashboard on the following Chaturbate offers:
If you're looking to monetize more geos and convert more efficiently, make sure to use Chaturbate's multiple translations (English, Spanish, German, French, Arabic, Dutch, Greek, Hindi, Italian, Japanese, Korean, Portuguese, Russian, Chinese, and Turkish)!
3- Recruit new performers
Opportunities are like sunrises. If you wait too long, you'll miss them! So here's the golden opportunity we promised to share with you. We hope you'll seize it soon enough to reap maximum benefits!
There is a huge potential for Broadcaster Recruitment, especially during the pandemic. New models might be attracted by the idea of earning extra income doing live shows from the comfort of their home on Chaturbate.
Web users are spending more time than ever on adult cam sites, as social restrictions force them to find new ways of satisfying their craving for human interaction and sex. Live Cam is an increasingly popular way to overcome this new reality and a sought-after source of extra revenue for male and female performers!
To promote the Broadcaster option, you simply have to select the Broadcaster Signup landing page on the Chaturbate – Revshare Lifetime – Responsive offer (#3688).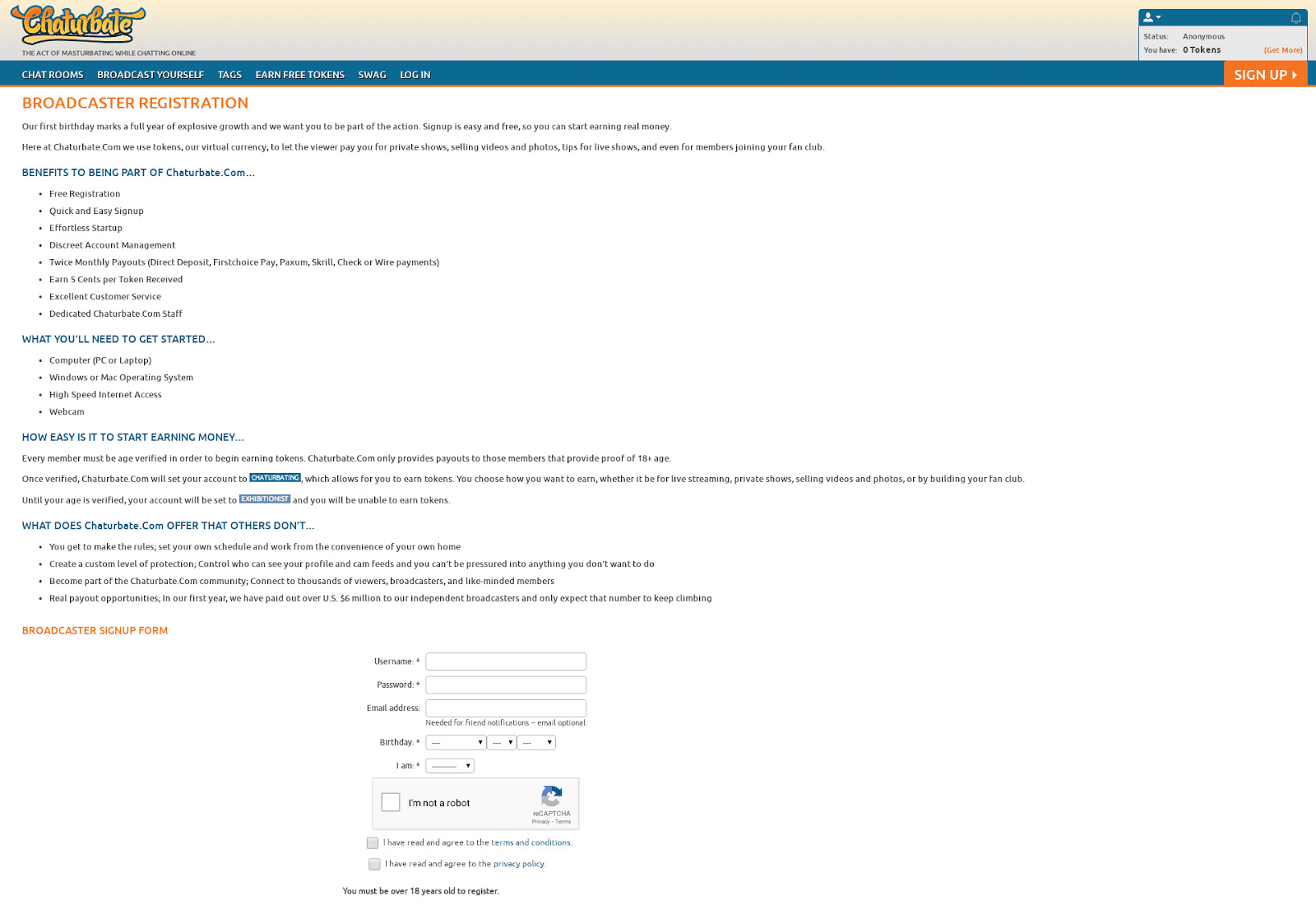 On this landing, a simple broadcaster registration form explains the benefits of being part of Chaturbate, what is required to perform online, and how easy it is to start earning money as a model. The form takes two minutes to read and fill-out.
This option will allow you to earn $40 for each referred model who generates at least $20. If you have a proper strategy to attract potential Chaturbate performers, expect serious earnings.
Let us be clear: an incredible opportunity is waiting for you!
So don't wait any longer and start monetizing your traffic with Chaturbate!